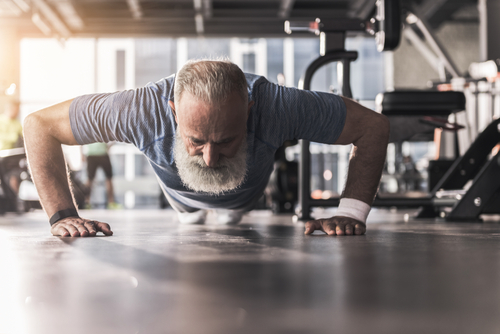 Seniors often believe that just because they've reached a certain age, they need to give up on exercising. However, it's highly recommended that seniors continue exercising with personal trainers. And, there are many workouts for seniors in San Diego to choose from. Not only can this enrich their lifestyles, but it can also provide them with invaluable health benefits. 
However, before signing up for your preferred workout, you should spend some time researching how to exercise in a safe manner or what exercises you should avoid. 
In addition, it's important that you stick to a structured workout plan, determining exactly how much and how often you should exercise. This will enable you to stay safe while still reaping all the benefits of working out. 
Are you ever too old to exercise?
One of the reasons why seniors often stop exercising is because they consider themselves to be too old. Perhaps they feel discouraged by the fact that they cannot do as much exercise as they used to, they've experienced a serious injury, or they're suffering from a certain condition that limits their physical capabilities. 
So, the question whether seniors are simply too old to engage in any type of workout remains. And if it has been bothering you for a while, you'll be glad to hear that you're never too old to join workouts for seniors in San Diego!
Even individuals who are recovering from an illness or surgery can work out unless their doctors say otherwise. They can start by slowly strolling through Balboa Park until they feel stronger to be more active. 
Important safety considerations to keep in mind
Whether you've been physically active for years or decided to start working out with a personal trainer, your age doesn't prevent you from exercising. However, you should still take several guidelines into account:
Consult with your doctor. You should discuss your physical activity with your doctor, especially if you're suffering from a health condition. They can give you valuable guidelines for working out and taking care of your body and mind. 
Listen to your body. Don't put yourself under too much pressure and stop exercising if you feel too much pain or strain. Engage in those activities that you enjoy the most and feel comfortable doing. 
Take it slow. If you haven't exercised for a while or you suffer from a certain condition, you should return to your routine slowly. According to the

Center for Disease Control and Prevention

, even moderate physical activity can offer you numerous benefits. 

Work out with a professional. Whether you join a group class or start working out with a personal trainer in San Diego, you will have professional guidance every step of the way. A fitness instructor can help you work out in a safe, controlled environment and minimize the risk of injury. 
Wear something comfortable. Investing in high-quality, comfortable shoes and breathable fitness clothes can not only make your workout more enjoyable, but also provide you with proper support and make your routine safer. 
How much exercise should a senior citizen get?
As already mentioned, you can greatly benefit even from moderate exercise. Nonetheless, when it comes to exactly how often you should work out, it's generally recommended that seniors who are 65 or older exercise around 2.5 hours a week. This refers to moderate aerobic training while strength training is recommended two days a week. 
Of course, you can plan your own schedule and work out every day for a shorter period of time, or exercise more vigorously for an hour. Either way, you should strive to have a more active lifestyle in general. 
Here are a few tips on how to achieve this: 
Avoid elevators. If possible, you should take the stairs instead even if it takes you a bit more time to reach your floor. 
Get a dog. A furry family member will require you to walk them at least twice a day, so you'll always be active.
Take up an active hobby. For instance, you can start gardening and you'll probably get the recommended daily workout without even noticing it. 
Join a senior club. You may be able to join a seniors' club where you can go dancing or engage in other types of fun activities. If not, you can at least walk over there for every meeting. 
Sign up for a gym. Consistency and persistence is key when working out. So, if you don't feel motivated to work out on your own, you can start going to the gym and follow a more structured workout plan. 
Walk whenever possible. You don't have to drive every time you want to go somewhere and even if you do, you can park a bit further. Also, you can get off the bus a few stops earlier and walk to your destination. 
What is the best exercise for seniors?
Another important consideration that seniors should keep in mind is what type of workout they engage in. It's extremely important that you choose the right type of exercise that will suit your body's needs and best enable you to attain your goals. 
If you're not sure where to start or which activities you should try, you can always consult with your personal trainer. They can help you set your fitness goals, plan your workout schedule, and guide you on your way to physical health.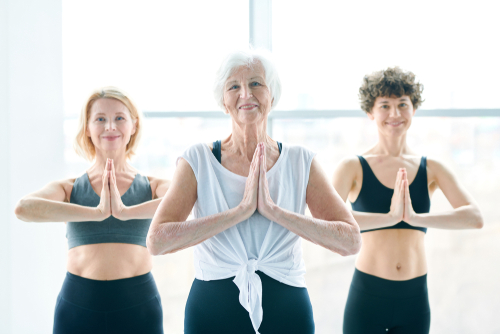 As for specific exercises you can try, here are a few suggestions: 
Yoga is great for seniors because it can help you enhance your balance, muscle strength, flexibility, mental health, etc. Since it encourages individuals to practice poses that feel comfortable, it's a great way to stay active without straining your body. 
Swimming is a whole-body exercise that will improve your wellbeing significantly, including your cardiovascular health. It's highly beneficial for seniors suffering from osteoporosis or arthritis. 
Strength training is essential for preventing fat gain and muscle loss. You can try bodyweight training or use gym equipment. However, don't put your body under too much pressure, and only practice those exercises that feel comfortable. 
Personal training brings many perks to seniors because it offers them a personalized workout plan. A personal instructor can focus on your fitness needs, taking into consideration your current fitness level, health conditions, possible injuries, etc. 
Discover the best workouts for seniors in San Diego & stay fit and healthy
All seniors are welcome to join Leo's Fitness Lab, the leading fitness center in the area. Our team of personal trainers are highly qualified and experienced in working with seniors, so rest assured you'll be in safe, skilled hands. We can help you attain your fitness objectives, improve your health, and be satisfied with your body no matter your age. 
What's more, we will tailor our fitness program to your specific needs and requests, so you will be able to enjoy fully personalized fitness sessions. We also boast high-tech equipment and a pleasant workout environment, so training with us will be a true pleasure. Stop by our gym today!